The work aims to analyze the potential repercussions that the technological innovations of the production process, commonly evoked with the term Industry 4.0, are producing and will produce in the future on the skills and professionalism required by those who request work. 
The analysis also evaluates the degree of exposure of human capital to the changes induced by the fourth industrial revolution and quantifies, as far as possible, the potential for replacing the occupied workforce. The digital revolution certainly offers numerous opportunities, creating new jobs that did not exist before, but at the same time brings with it the destruction of a certain type and number of jobs that put at risk a non negligible slice of jobs. 
The report presented here is part of a more extensive research that IRPET is carrying out on Training 4.0, which produced a first exploratory report entitled "The skills needs 4.0 of the Tuscan production system".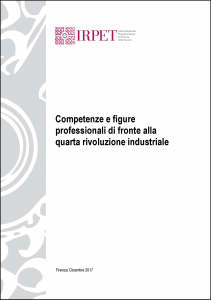 Author: By Nicola Sciclone; Silvia Duranti; Natalia Faraoni; Tommaso Ferraresi; Donatella Marinari; Valentina Patacchini
Publication details: Irpet, 2017