Contribution published in the II-Italy section of the 2017 Report of the Soil Consumption Research Center "The European dimension of land use and national policies" 
The 2017 Report of the CRCS critically addresses some current issues for the governance of changes in land use. The volume – now in its sixth edition – is divided into two sections: one European and one dedicated to Italy. 
The European section proposes a survey of the main soil threats by observing which instruments have been adopted by the individual Member States for the protection of soil, despite the absence of a specific framework directive for soil protection.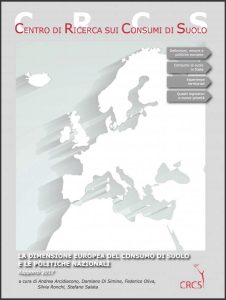 Publication details: INU edizioni, 2017